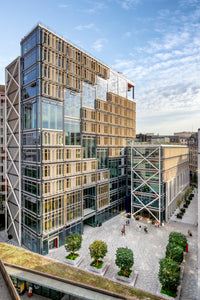 The Story
Eliminating the need for air handling equipment on the upper 10 floors of the London School of Economics (LSE) Centre Building was a key project driver. To achieve this, the façade had to be optimised to resolve various conflicting requirements, requiring several iterative design solutions to be evaluated and refined, and considering user behaviour and adaptation to future climate change.
The main challenge was to provide the necessary openable area of façade to allow for sufficient night ventilation required for avoiding overheating, whilst still meeting tight U-values required to reduce heating in the colder months.
The now completed Centre Building has been awarded a BREEAM Outstanding rating, partly due to the careful incorporation of several passive and active technologies within the façade, such as shading and automated opening vents, which came as a reaction to the design brief.
The features that helped achieve this rating include the use of natural ventilation throughout the majority of the building, and the extensive use of brise-soleil on the exterior of the building, which controls solar gain whilst allowing maximum diffuse light to penetrate the façade.
These measures have provided good daylighting, and impressively, natural ventilation to over 70% of the accommodation, resulting in significant reductions in operational energy and creating workspaces which enhance the wellbeing of its occupants.
In particular, the brise-soleil was carefully designed to meet several different criteria, including the ability to provide various levels of shading to different areas of the façade whilst maintaining a consistent visual appearance. This was achieved by having a modular design with a consistent outer section and additional components added only where additional shading was required.
The need to block direct sunlight whilst maximising views out and diffuse daylight transmission was playfully developed by the architects to provide different characters to the building depending on the direction this was observed from; with the controlled use of bold coloured elements visible from the square created in front of the main entrance of the building
#climatechangeready
Find Out More
Primary Contact
Clyde Abela (c.abela@wintech-group.com)

Other information
Following completion, the building has been awarded the BREEAM award under the Public Sector Project – Post construction Awards. The client has also published their POE findings, essential for the industry to move to the next generation of sustainable outcomes.
The Team  
Client: London School of Economics, Political Science
Architect: RSHP
Façade Consultant: Wintech Group
Environmental Certification: BREEAM Outstanding (88.9%)