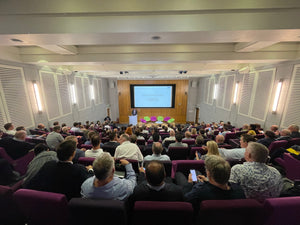 Our 2022 AGM and Members' Meeting was held on 13 September, and was a great success, with over 140 people in attendance. 
As usual the day started with a short AGM giving an update from our Chair, Saverio Pasetto, who also read a statement from our Finance Director Richard White, who unfortunately could not attend.  David Metcalfe, Director of CWCT then gave an update on the CWCT membership, our courses, and all the work that is currently being carried out, including new technical notes, updates to fire guidance and our new work on sustainability. 
Following the AGM, our morning session focussed on sustainability.  We heard from John Downes, Chair of the CWCT Sustainability Committee, giving a further update on the work we are doing, Helen Hare from GPE, who spoke about how a major client is responding to new sustainability challenges, and from Tim Downes of British Land who discussed 1 Triton Square, an innovative refurbishment case study, and went on to talk about other projects, really highlighting the need to consider each project on its individual merits.
We were also delighted to be able to launch our first embodied calculation methodology for facades.  Anna Wendt, Chair of the methodology workstream and Teni Ladipo, both of Buro Happold presented this work.  A huge amount of effort has gone into this methodology, and we are very proud to have published this really important document. 
The morning session ended with a panel discussion.  Our diverse panel gave interesting and thought-provoking views on the sustainability challenges faced, how we as an industry might respond to them and the need for increased data to allow for more informed decisions to be made.  This was a real eye-opener and highlighted the importance of the collaborative approach that we have taken with our sustainability work. 
Our afternoon session was on health and safety, another recent focus of the CWCT Board.  Our first speaker, Paul Bussey, representing the RIBA, spoke about guidance for designers in response to CDM regulations, and new competence requirements following the introduction of the Building Safety Act.  This was followed by Simone Starnini of Sir Robert McAlpine, who spoke about how a main contractor can respond to health and safety and gave examples of best practice.  He also introduced future CWCT guidance in the area.  Kate Hawkins of Stanmore gave a specialist contractors view of health and safety and highlighted examples of good practice and areas of concern.  Our final speaker of the day was Neil Gibbins representing CROSS (Collaborative Reporting for Safer Structures).  Neil introduced the idea behind the work of CROSS, the important safety alerts that they publish, and encouraged everyone with safety concerns to report them to help raise awareness and promote a better way of work.
After two years of virtual events, it was great to see so many people attend in person.  Our thanks to all the speakers and panellists for sharing their knowledge and experience on these two key topics, and thanks also to all in attendance for engaging with our speakers, asking questions which helped to make the day a great success. 
One of the key takeaways from the day was the need to work together and share information.  We all want to do things better, learn from past experience and respond to future challenges and priorities.  We are best doing this collaboratively, and through the work that CWCT is doing and the engagement with our Members, we can really lead and make a difference. 
CWCT Members can download copies of many of the presentations via the Cladding Forum.