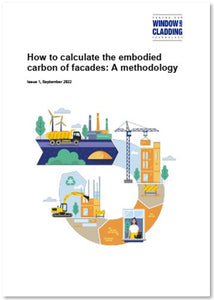 How should you calculate the embodied carbon of a façade system?  How should general standards be interpreted, what elements should be included, what assumptions should be made, which modules should be included, how can the calculation be refined through the design process?
These questions and more prompted the CWCT to form a workstream as part of our wider sustainability work in order to provide specific guidance in this area, and our first embodied carbon methodology was launched at the CWCT AGM yesterday. 
With the emphasis in recent decades on reducing the operational carbon emissions from buildings, embodied carbon is becoming more significant, and there is an increasing shift in focus towards embodied carbon assessment.  This now requires more detailed quantification to better understand emissions and how they can be most effectively reduced. This is key as we move towards 'net-zero' buildings. 
The complexity in the calculation of the embodied carbon of a façade system should not be underestimated.  Furthermore, a consistent methodology is vital if we want to better understand the contribution that our facades make, be able to compare different options, quantify improvements and set targets.  We therefore think this is a really important document and one that complements other guidance on specific areas of buildings produced by organisations such as CIBSE and IStructE. 
My sincere thanks to all the members of the workstream for their hard work and dedication to producing the guidance and to the many people who reviewed it prior to publication.  Its now over to you.  There remain lots of gaps in the knowledge and therefore your feedback as you use this methodology is crucial.  We intend to update this guidance as we gain greater knowledge and experience in this area. 
The CWCT embodied carbon methodology is free to download for CWCT Members from the Cladding Forum and available to non-members to purchase.  Please see the website for further details;
https://www.cwct.co.uk/products/how-to-calculate-the-embodied-carbon-of-facades-a-methodology