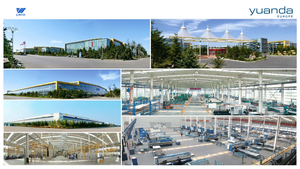 The Story
Recognising the need to minimise emissions to achieve more environmentally friendly operations, Yuanda Co. Ltd identified that the main emissions from the UK operation of the global facade construction company occurred from waste, fuel combustion and staff commuting.
To mitigate these emissions, Yuanda UK partnered with Carbon Neutral Britain to measure and offset their carbon footprint, to become certified as a Carbon Neutral Business, accredited to ISO 14064.
Actions taken by Yuanda UK to achieve this included minimising waste from off-site fabricated unitised curtain walling by returning steel stillages for re-use, and by recycling protective wrapping and packing through Powerday Waste Management.
With help from their access & lifting solutions partner at GGR, Yuanda UK also switched to battery powered mini-cranes and MEWPS for installation & access in their effort to move away from fossil fuelled plant operations.
The success of hybrid working and video conference meetings during the pandemic led to this becoming the norm for Yuanda UK operations. This allowed for further carbon mitigation resulting from the many operational and administration staff having a reduced need to commute into Central London on a daily basis.
A further policy change working well within Yuanda has been their near elimination of international travel between the UK and facilities in Basel and China, both also in favour of video conference meetings. Their use of local consultants and live streaming to conduct inspections and client tours has also reduced the need for commuting, all of which has contributed to key emission mitigations for their operations.
In consultation with TüV Rheinland, Yuanda are in the process of expanding similar emission mitigation assessments to their European and China operations and to provide EPDs.
#minimisewaste
#buildlowcarbon
Find Out More
Primary Contact
Stuart Fenton (stuart.fenton@yuanda-europe.com)

Other information