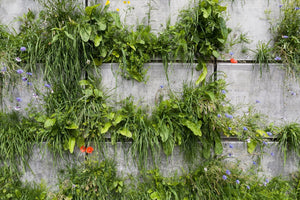 The Story
Released in 2019, the IPBES Global assessment on Biodiversity and Ecosystem Services highlighted the biodiversity crisis that we face. Cities and their buildings have a key role to play in mitigating the impact of developments.

In the UK, the Environment Act (2021) and its regulation of Biodiversity Net Gain will drive designers to explore new ways for buildings support biodiversity. Growing plants on building facades, also known as 'living walls', is one such way buildings can improve the biodiversity of the local area.

The team at Vertical Meadow have worked to develop an approach to growing plants from seeds embedded within the façade, negating the time and costs associated with pre-growing of plants.

With the support from the UK Wildlife Trusts, Buglife and Prof. Nigel Dunnett the designs incorporate a specific curation of plant species to enhance biodiversity in the UK context focusing on native UK wildflowers. In turn, the native plants reduce the requirements for ongoing maintenance.

There are challenges associated with the combustibility of living walls and therefore designers should take due care to review the compliance of such systems. The Vertical Meadow Cladding system has been developed with the aim to design out the use of combustible components where possible. The team have conducted EN 13823 single burning item tests on both wet (alive plants) and dry (dead plants included) specimens.

Living wall systems are typically designed with proprietary fixings. Vertical Meadow developed a rainscreen approach that could be used with standard hook-on façade rails to enable easy delivery by the façade contractor rather than a specific specialist installer.

Living walls offer a solution for designers to improve the biodiversity impact of construction.
#biodiversity
Find Out More
Primary Contact
Alistair Law (alistair.law@verticalmeadow.com)
Other information
Biodiversity Net Gain regulation in the Environment Act (2021) will require new ways that buildings support biodiversity especially vertical surfaces.
The fire performance of living walls is a key consideration in the design and product selection process.
Vertical Meadow has developed a system that can be used on standard façade cladding support rails.