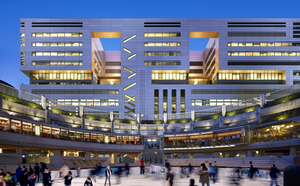 The Story
The team adopted a more a dynamic approach to minimising embodied carbon within their design decisions on the 5 Broadgate project.
A project-wide embodied carbon assessment was undertaken at each design stage, this assessment provided transparency needed to enable the engineers to carry out focussed carbon studies of the design decisions that contributed most significantly to the embodied carbon of the façade system.
One such design decision was the material selection for the  opaque curtain walling panels. The engineers chose to move from an aluminium to steel sheet product. This change reduced both the volume of material required, benefiting from steels' greater strength, and moved to a less carbon intensive material. At the time of the design, the choice to move to steel was also driven by durability and more transparency of recycled content from the steel industry.
Any decision with the facade was also considered along with other disciplines such as the primary structure, to ensure all strategies were not considered individually, but rather balanced to get the best overall result.
This approach, driven by the Clients ambition to meet the projects' sustainability targets, helped build a culture of carbon reduction into the design team and overall led to the saving of over 3,300 tonnes of CO2e in which the facade played an important role.
The teamwork and time invested in monitoring embodied carbon through all phases of the project is a great example of prioritising the efforts of the design team to minimise the embodied carbon contribution of the façade.
#lowcarbon
Find Out More
Primary Contact
Teni Ladipo (Teni.Ladipo@burohappold.com)
The Team  
Client: British Land
Architect: Make
Façade Contractor: Seele
Façade Consultant: Buro Happold
Completed 2015