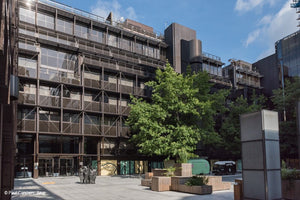 The Story
Justification for the retention of the existing façade was a pivotal change in approach to the refurbishment scheme for 1 Finsbury Avenue. Designed by Arup Associates, completed in 1984, and now Grade II listed, the fabric had been in service for more than 30 years. 
In reviewing the existing façade, designers looked in detail at each of the components in the system to understand which parts were most important and which might be upgraded. This enabled the assumption that the building's envelope had reached the end of its useful life to be challenged. It was argued that it could be preserved and adapted without the need for wholesale recladding.
This approach mitigated the potential embodied carbon emissions associated with the demand for a new façade system.
Detailed as-built drawings, site investigation works, and performance testing of building fabric provided key evidence to determine the system design, durability and remaining predicted services life.
This resulted in full retention of the existing façade with localised light touch interventions to unlock the building potential for future users.
#buildnothing
Find Out More
Primary contact
Emily Sutton (Emily.Sutton@arup.com)
The Team  
Client: British Land
Contractor: Sir Robert McAlpine
Architect: AHMM
Façade Consultant: Arup
Completed 2021