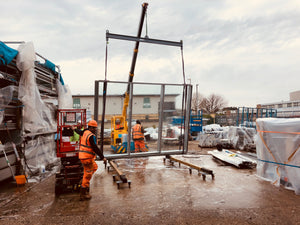 The Story
Reusing façade components eliminates the carbon emissions associated with the manufacture of new materials. This is exemplified on the recent refurbishment of 1 Triton Square, London.  
The team carefully dismantled and refurbished over 3,500m2 of façade panels. Cleaned, re-inspected, reinstated the outer unit, including glass and framing, of the double-skin façade was dismantled, cleaned, inspected and reinstalled.  
A key enabler was the access to good record information from the original as-built 1990's design and the use of predominately dry-fixed connections within the façade system, which avoided the challenges associated with disassembling adhesive connections.  
To minimise emissions further a pop-up factory was setup in Essex to undertake the refurbishment and avoid excessive transportation.
#buildless #circularity
Find Out More
Primary Contact
Matteo Lazzarotto (Matteo.Lazzarotto@arup.com)
Key Notes
The existing external skin was dismantled and reused as part of the refurbishment. 
The reused components reduced the demand for new components. 
Opportunity enabled by access to original as-built information.
The Team  
Client: British Land
Contractor: Lendlease
Façade Contractor: Gartner
Façade Consultant: Arup
Completed 2021